If you want to read this article in Finnish, look for the article Case Visual Components: Laadukkaalla johtamisella ja fiksulla ajankäytöllä kestävään kasvuun
Visual Components is a Finnish software company which is a pioneer in 3D modeling and simulation. Despite its strong focus on technology, the company values its knowledgeable staff as the most critical asset. The organization currently employs about 70 experts in various roles and functions, but the company's ambitious growth goals will naturally require significant recruitment in the near future.
The organization is genuinely global, with around 20 nationalities represented internally across multiple countries. Through over forty partner companies, Visual Components has expanded its presence globally. Communication within this diverse organization has always been digital, but during the pandemic, the number of meetings naturally increased, and clear frameworks were needed to streamline this new way of working. Ensuring consistent and high-quality meeting practices was considered vital for fostering productive collaboration, efficient time usage, and overall operational improvements.
Leadership development is one of the most significant facilitators of growth and success within organizations
Visual Components recently revamped its leadership team. As part of the transformation, new team members joined the leadership group, and CEO Mikko Urho took on his role just over a year ago. To support this renewal and ensure its success, they sought insights and facilitation from an external expert, leading them to choose Lifted as their partner. The jointly planned coaching program aimed to establish new shared practices for the fresh leadership team, update leadership principles, emphasize and clarify the importance of leadership, and elevate the entire workforce by enhancing meeting practices.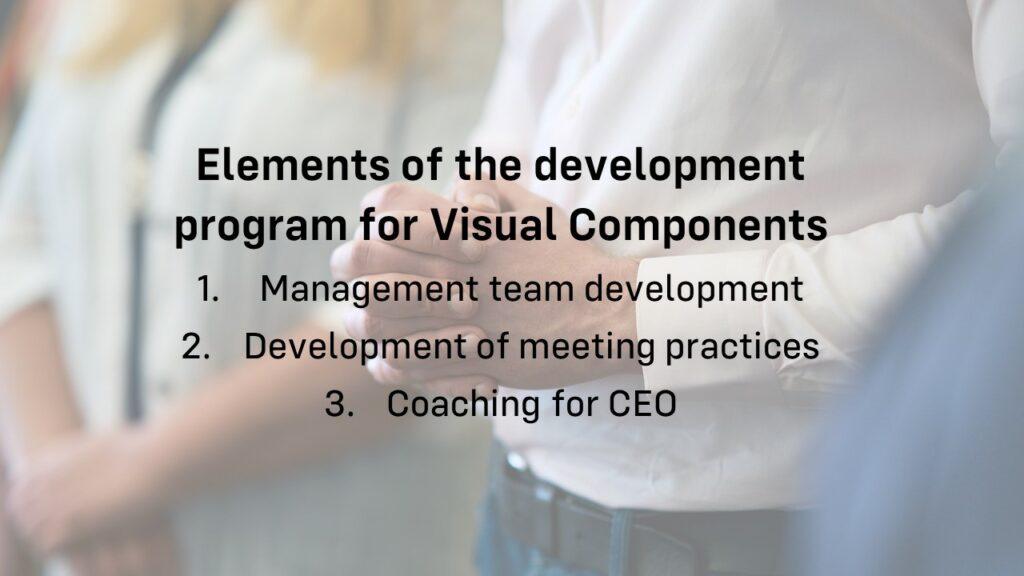 Creating a foundation for sustainable growth through leadership investment
A new CEO inevitably leads to organizational changes, and Visual Components viewed this as an opportunity as Mikko Urho assumed his new role. With 19 years of experience at Visual Components, Mikko was deeply familiar with the organization and its direction. However, stepping into a new role, particularly one as critical as the CEO, meant seeking fresh perspectives and refining his thoughts to support his own development.
As part of the coaching program, Mikko participated in Executive Coaching. "Every CEO, at some point, feels somewhat isolated. Having a sparring partner to clarify your thoughts and decisions is invaluable. It's almost therapeutic to discuss these matters confidentially with someone," Mikko Urho explains.
With the newly formed leadership and management team, there was a natural need to clarify the group's working processes and crystallize a shared vision and direction. The coaching focused on leadership principles and the culture of leadership. In addition to high-level discussions, the more concrete themes included defining the future image of the leadership role and establishing a tangible way to clarify the organization's direction and strategy throughout the entire workforce.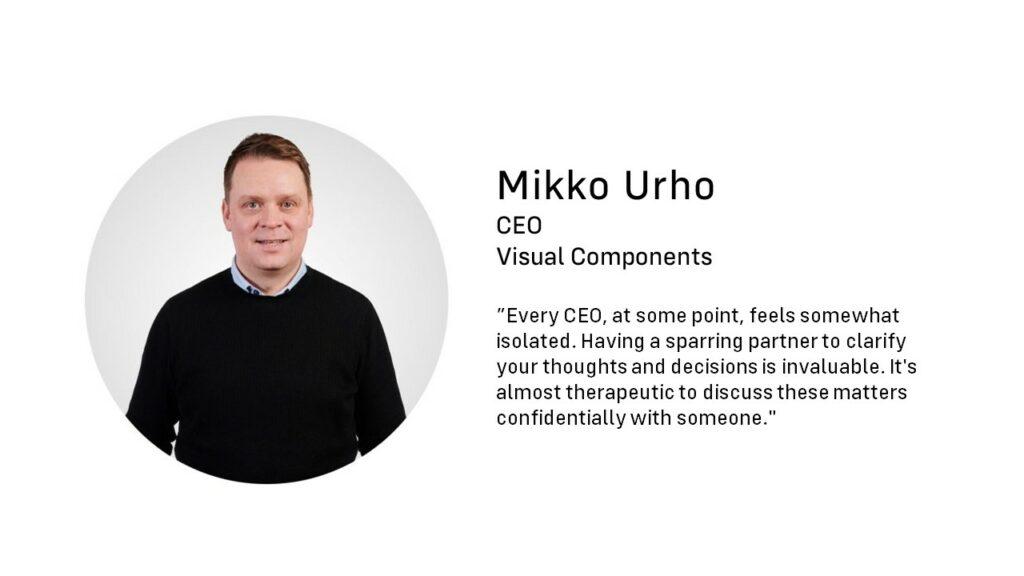 The coaching results were highly tangible. "We have now clarified our long-term strategy and are in the process of implementing OKR planning, as highlighted during the coaching, to provide clarity in executing our strategy across the organization. Through the OKR model, we aim to make our direction visible and clear. We are very pleased with the overall outcome; it met our expectations and delivered the desired results. We wanted to have the support and ideas exchange with an external experienced party, and Lifted's coaching and the guidance of the coaches helped to clarify our thinking. There's always room for improvement, and there is more work to be done. However, we must take one step at a time. Development is ongoing, and the next steps are ahead of us," Mikko Urho states.
Enhancing work efficiency across the entire workforce through meeting practice improvements
The pandemic changed the way Visual Components' organization operated, especially in terms of increased meeting frequency. Given the additional time commitment, it was essential to analyze how meetings were conducted and how they could be made more efficient. Generally, knowledge workers spend about 50% of their time in meetings, and up to 17% of all work time is wasted due to poor meeting practices. Defining effective meeting practices and ensuring their consistent implementation can significantly enhance time usage, which, in turn, reduces workload and improves well-being.
During the meeting practice improvement project, a comprehensive survey of the entire Visual Components staff was conducted to assess current practices and meeting procedures. The most critical needs for development were identified, and the most suitable practices were defined for various working formats within the organization. As the project's result, the organization's key practices before, during, and after meetings were documented: practices designed by the workforce, for the workforce.
"There have been clear improvements in our meeting practices since our collaboration. This development was undoubtedly necessary, and it was important to put these clear common practices in place to make the most of our time. For instance, meeting invitations, agendas, and structures are now well-organized. We are precise about who is invited, and we always have defined post-meeting action items. We have established a shared set of rules. Admittedly, such a change requires follow-up and monitoring, and we still have work to do to fully integrate these practices into our everyday work. This is why we have a follow-up in place, where we will strengthen and possibly fine-tune our common practices," says Mikko Urho.
Lifted and Visual Components will continued collaboration to reinforce the new practices and assess their impact on operational efficiency and employee well-being.
---
If you are currently thinking about developing leadership in your organization, contact us – we are very happy to spar with you!
Jukka Joutsiniemi
+358 44 271 1487
jukka(at)lifted.fi