DLA Piper is a law firm operating in over 40 countries, specializing in business law. In Finland, the company has been in operation since 2016. Their services cover the entire corporate lifecycle, from establishment to voluntary liquidation and restructuring. DLA Piper Finland Ltd employs over 80 people.

People and clients are at the core of DLA Piper's strategy. Business-oriented approach and effective interaction with clients are crucial. The company's service promise is summarized as "Easy to work with." With the growth of the organization, DLA Piper identified the typical need of an expert organization: the need to develop and standardize leadership. Workplace surveys and subsequent personnel surveys revealed differences in the quality of leadership. Areas for improvement included providing feedback, interaction, and overall communication. Investing in leadership was seen as essential because effective leadership is considered to enhance DLA Piper's competitiveness and differentiation, both from a customer and employee experience perspective.
The content of the training was refined with the requirements of hybrid work theme
Working methods at the law firm underwent a significant change due to the pandemic: there was a shift from a strong focus on office work to the world of remote and hybrid work. Naturally, this also impacted the role and requirements of leadership. The new work culture was taken into account in the coaching's objectives and content.
The project initiated with Lifted had the following objectives:
Bringing principles and tools that promote good leadership at DLA Piper into daily leadership
Standardizing the quality of leadership
Improving the self-awareness of supervisors as the foundation of leadership
Developing communication skills in different situations
Strengthening collaboration among supervisors
Leadership principles were crystallized collectively
In the first phase of the project, common leadership principles at DLA Piper were defined by the project steering group. A leadership survey was used as the foundation for not only the steering group but also among the staff. Respondents were encouraged to provide their views on what constitutes good leadership in their opinion and how they hope to see it manifested at DLA Piper in the future.
Surveys and discussions helped clarify and finalize the leadership principles. "Three themes, namely psychological safety, providing feedback, and interaction, emerged as the top priorities," says Katja Kanerva, HR Manager at DLA Piper. These three principles were then presented to the entire leadership team and partners, allowing everyone to accept the principles.
Practical leadership actions enact unified leadership
Commitment to the leadership principles required each partner and 30 supervisors to evaluate their leadership capabilities and supervisor roles. Self-awareness was developed using Workplace Big Five profiles. Katja Kanerva was already familiar with Workplace Big Five. "Utilizing Workplace Big Five assessments helped supervisors understand the diversity of people and how individuals react to situations," Kanerva explains. Concrete examples and various exercises were used to concretize the implementation of the three selected leadership principles.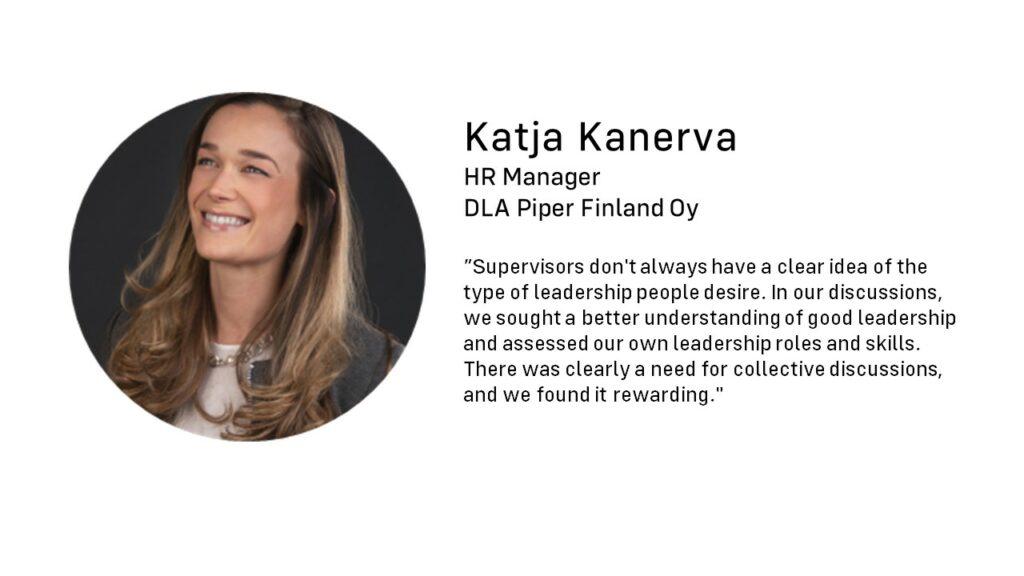 Long-term impact
"This was a significant investment for us in terms of time as well. Our goal was to achieve long-term impact," says Katja Kanerva.
Development of supervisor work is continuous and long-term. DLA Piper can already identify changes. "There are improvements in providing feedback. The collaboration and peer support among supervisors have also increased," says Katja Kanerva and adds: "The starting point for the change was good because, in the big picture, all supervisors consider it important for DLA Piper to be a good workplace. They have the desire to understand and learn. All in all, the coaching was well received and appreciated."
A pulse survey concerning the three leadership principles will soon be conducted among the staff. This will provide a more detailed view of the results achieved. The pulse survey will be conducted quarterly in the future. Lifted coach Anne Nahkala will be coming to DLA Piper to remind supervisors of the agreed-upon principles.
Strong partnership through genuine commitment
According to Katja Kanerva, cooperation with Lifted went smoothly from the beginning: "Lifted was genuinely committed to DLA Piper. They didn't offer any management by perception training but aimed for long-term development and impact. We have developed a strong trust relationship with Lifted."
"Lifted was genuinely committed to DLA Piper. They didn't offer any management by perception training but aimed for long-term development and impact. We have developed a strong trust relationship with Lifted."
Were you inspired by DLA Piper's story?
If you are currently thinking about developing leadership in your organization, read more about our trainings for leadership and contact us to learn more. We are very happy to spar with you!
The best way to get started is to contact Jukka Joutsiniemi by e-mail or phone:
Jukka Joutsiniemi
+358 44 271 1487
jukka(at)lifted.fi