This time, we want to highlight the outstanding development work with Metsähallitus in the realm of leadership and teamwork. Metsähallitus is a state-owned enterprise that provides natural resource-related services across Finland, from Hanko to Utsjoki. They focus extensively on sustainable use, conservation, and management of natural resources. The core mission of Metsähallitus is the responsible development of natural value and shared wealth across generations.
We carried out an extensive coaching program with Metsähallitus's Tunturi and Northern Lapland national park areas. This program included separate coaching for team leaders and the entire workforce. Afterward, we reviewed the feedback and successes of the coaching program in collaboration with Joel Erkkonen. Below, you can read about the results of our partnership and the secrets of its success.
Starting Point – Insights from Park Director and Development Manager, Joel Erkkonen
Some time ago, we identified the need to develop teamwork and leadership in Lapland's nature services at Metsähallitus. We initiated a pilot project to assess the current state and pinpoint specific development needs within a few teams. By the spring of 2021, we had reached a stage where the key challenges in leadership, desired development actions, and the need for improving community and teamwork were identified based on the pilot project. It was time to plan our next significant step.
To take this next step, we recognized the need for an external expert and partner who could help us progress in the desired direction. We knew that we required coaching and the development of shared practices in leadership, teamwork, and across the entire workforce. We received strong recommendations for Lifted, and after collaborative planning, we began implementing the high-quality program offered to us.
Our overarching theme was "Our Personnel Is Our Most Valuable Asset." Guided by this theme, we set the following objectives as our top priorities:
Promoting well-being at work
Supporting sustainability at work
Clarifying our common goals and practices
Developing ways to show appreciation
Fostering team spirit
Leadership as the starting point
Our discussions on leadership and the role of team leaders were crucial. Many of our team leaders had taken on their roles in various ways over time, and we needed a fresh perspective on our leadership. The coaching sessions sparked numerous ideas for developing our leadership. We gained a shared foundation for quality leadership from the coaching, as well as a vision of what we want our leadership to look like in the future. It was valuable to have team leaders from two different teams collaborate, which elevated the support among our team leaders to a new level.
After the workshops for team leaders, the coaching continued with workforce development. The teams from the Tunturi and Northern Lapland national park areas participated in Workplace Big Five analysis at the beginning. Subsequently, we gathered in Lapland for coaching sessions led by Lifted's coach.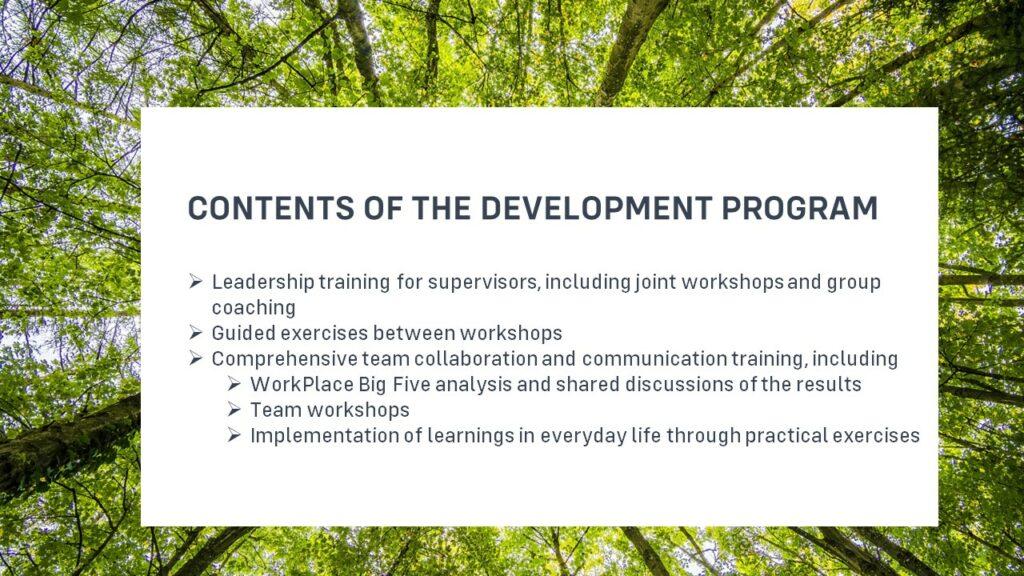 Benefits for the entire workforce from development of leadership and teamwork
The entire workforce greatly benefited from the coaching. With Lifted's guidance, we received a good shake-up and had our thoughts stimulated regarding our own practices. We acquired knowledge and concretized the core aspects of our operations and key areas for development. An exciting part was how we visualized the similarities and differences among our teams. Our coach, Markus, guided us to position ourselves along a line based on the results of our personality analysis, which effectively showcased our team profiles.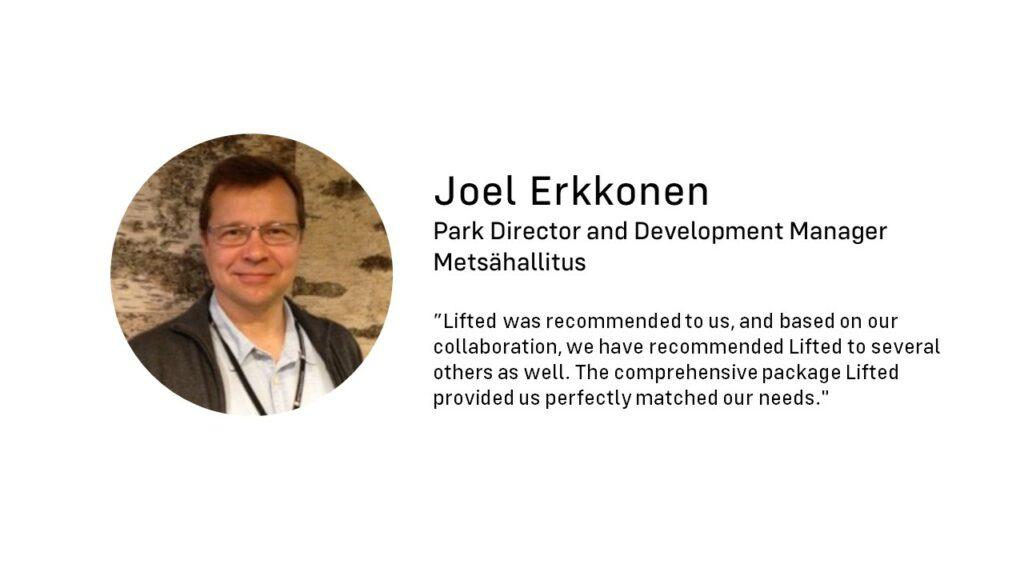 The most significant takeaway from the coaching was the discussion of what makes a successful team. Inspired by the workshops, we created a "Code of Conduct" that outlines our operating principles. This concrete code helps keep the most important coaching insights in mind and part of our daily work. Our task is to remember the coaching lessons so that good practices do not get forgotten amidst our daily tasks but remain a part of our work now and in the future.
Were you satisfied with the partnership with Lifted?
Lifted was recommended to us, and based on our collaboration, we have recommended Lifted to several others as well. The comprehensive package Lifted provided us perfectly matched our needs. Moreover, we had access to even more options than we initially requested, many of which we utilized. The consistent and systematic measurement and follow-up of the coaching's impact and development made a strong impression on us.
Our partnership will undoubtedly continue in the future. We have taken excellent initial steps on our development path, and the journey goes on. Park Director and Development Manager Joel Erkkonen shared these insights.
Inspired by the story of Metsähallitus?
If you are currently thinking about developing leadership and teamwork in your organization, contact us to learn more. We are very happy to spar with you!
The best way to get started is to contact Jukka Joutsiniemi by e-mail or phone:
Jukka Joutsiniemi
+358 44 271 1487
jukka(at)lifted.fi