We have been working together with Qvik over the past two years, forming a model of coaching leadership for their new group of Team Leads. Qvik is a software consulting company whose goal is to provide the best digital consumer services in the Nordic countries. Qvik builds successful services by combining consumer understanding with ambitious goals, insightful design, and modern technology.
This organization of 125 talented experts has implemented a self-directed approach where the experts can utilize their expertise in the way that suits them best. – "We have high-level professionals who want to work in their own way, but at the same time with Qvik's typical relaxed and easy-going attitude," says People Specialist Meral Bedretdin and Team Lead Development Manager Aura Forsberg from Qvik.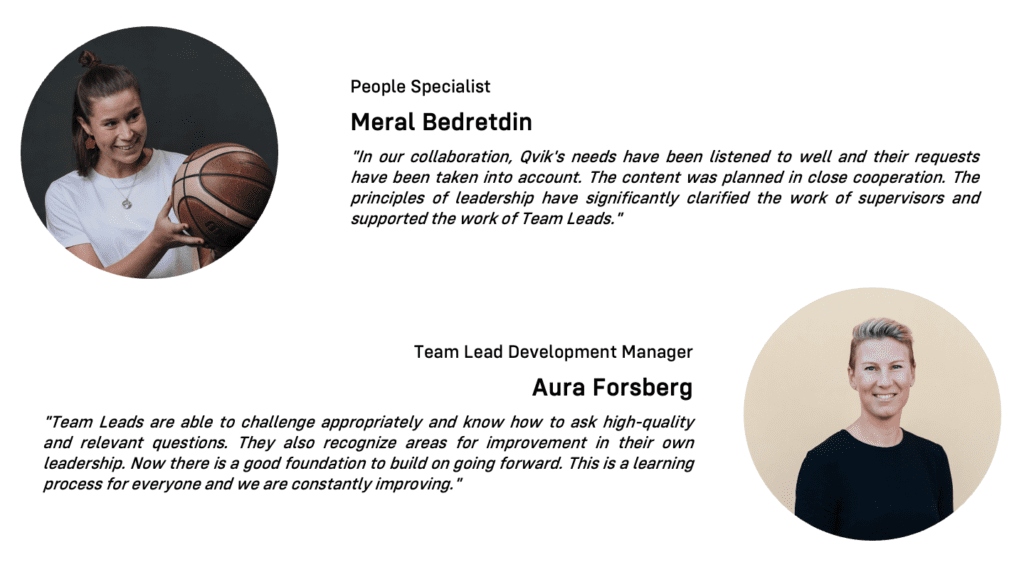 Operating Philosophy to support the new Team Model and Leadership
Previously, Qvik had only a few supervisors who had a lot of subordinates. However, this did not support self-directive culture in the desired way. Qvik decided to switch to a team model, in which Team Leads who participate in customer work support and guide their own teams. Of course, leadership was not reformed by organizational change alone. Especially as the majority of Team Leads were first-time team leaders. Therefore, Qvik needed a renewed leadership model that supports its operating philosophy and values as well as more leadership expertise. From these needs, the development of Qvik's new coaching leadership model started in collaboration with Lifted. The change has now been systematically implemented over last two years.
Good Leadership Starts with Self-awareness
Good leadership is based on self-awareness, and therefore Team Leads first participated in Workplace Big Five personality analyses. The Workplace Big Five Profile™ is a modern, widely researched, and reliable personality model that assesses one's behavior through five personality domains. – "Through personality analyses, Team Leads' self-awareness improved a lot, which helped develop their own leadership," says Aura.
"Through personality analyses, Team Leads' self-awareness improved a lot, which helped develop their own leadership"

Workshops, excercises, and coaching in the right proportion
The development of coaching leadership was carried out in stages in seven workshops, during which Team Leads were able to hone their new skills in practice. "The workshop implementation cycle was good and as mutual understanding grew, we were more able to talk about challenges as well. Especially later on, there was so much sharing of experiences and discussion that time was running out," says Meral, adding, "The engaging exercises in the sessions were good and eye-opening."
"The engaging exercises in the sessions were good and eye-opening."
Personal coaching, consisting of several meetings during the program, was used to support practical training and personal implementation. The combination of workshops, coaching, and practical training was seen as an effective coaching model.

Team Leads created a network, supporting each other
Qvik's coaching leadership was based on shared leadership principles, emphasizing fair, equal treatment of everyone. Everyone receives help and support, is heard, and seen. "The leadership principles have significantly clarified the work of supervisors and supported the work of Team Leads," say Meral and Aura.
The results can be seen, among other things, in 1-on-1 conversations between Team Leads and team members. "Team Leads can challenge their team members appropriately and ask relevant, good quality questions. They also recognize areas for development in their own leadership better," describes Aura. With coaching, Team Leads have grown into a network that supports and helps each other. According to Meral, "The Team Lead group now has a good vibe."
Aura is responsible for guiding and developing the actions of Team Leads. She has been able to use coaching material to orient new Team Leads to the task. "Even if the Team Lead is nervous about the new role, we can reassure that they are not alone, and help is always available. A coaching approach to leadership is introduced from the beginning," says Aura.
Coaching leadership is spread throughout the organization
Leadership development is never complete, and there is still work to be done at Qvik. Coaching leadership and coaching culture are to be spread throughout the organization, to all supervisors and management. Now Team Leads can also demand a coaching approach from their own supervisors. "We have now built a good foundation to go even further. This is a learning process for everyone, and we are constantly developing," says Aura. Qvik continues to develop coaching leadership with all the supervisors equally and by making sure that Team Leads will receive additional training for their own leadership.
Easy, low-threshold cooperation
The cooperation with Lifted started when Qvik became convinced of Lifted's expertise in coaching leadership. "Lifted listened to Qvik's needs well and our wishes were taken into account. The content was planned in fluent collaboration," say Meral and Aura. Overall, they describe the cooperation as close and the communication as smooth. The participants have also been very satisfied with the coaching program and found it very useful for their own work.
---
If you are currently thinking about developing leadership in your organization, contact us – we are very happy to spar with you!
Jukka Joutsiniemi
+358 44 271 1487
jukka(at)lifted.fi